SERVICES' DETAILS
Prototyping & Built to Print
Description
From wet-layup and vacuum bagging to Autoclave/Prepreg and RTM-based techniques, Adamant Composites proudly offers the end-to-end range of processing and manufacturing services:
Processing room with controlled environment (ISO9 and upgradeable)
Processing of space approved materials (Epoxies, Cyanate Esters, Adhesives, etc.)
Autoclave curing up to 200oC at dimensions Φ 1000mm, L 2000mm
Curing & Post-curing oven
Quality inspection for Product Assurance
Production Design & Process Development
Advanced Product Engineering
Description
We help our customers create high-added value products providing our expertise, know-how and procedures for materials processing and engineering design!
We offer Engineering services on Materials Processing, Process Development and Product Development.

Our engineers have an extensive experience in composites and polymer processing technologies, for a wide range of polymers, covering among others characterization techniques, test campaign planning, modeling, simulation, all the way to prototyping and root-cause analysis.
Through our innovative Made-to-Measure Materials Design methodology, we can tailor polymer-based products to fit the customer needs. This is achieved through proper selection of processes and materials from the nano- and micro-technology palette.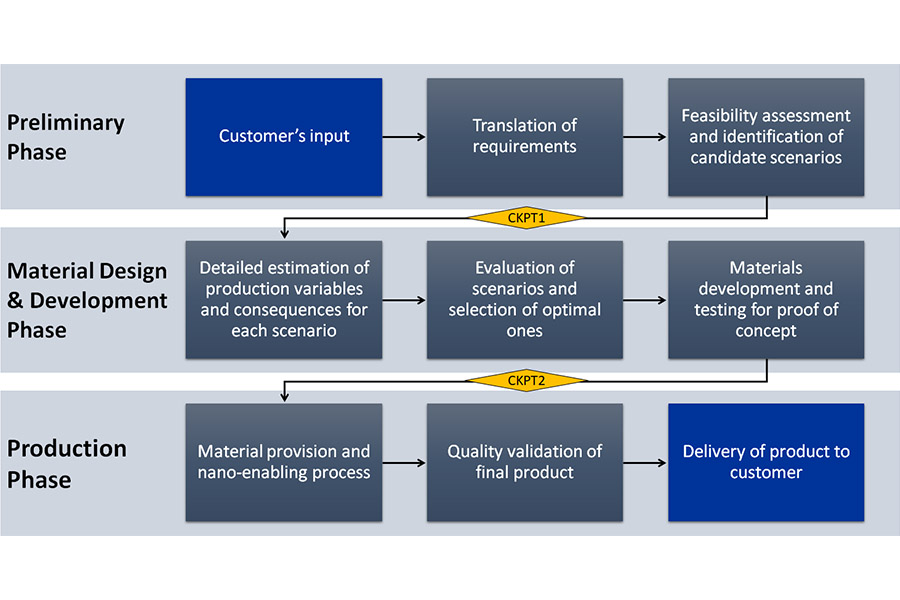 For Product Development, we can further support with Design & Analysis services for Test and Processing Equipment.
Service offered include:
Product Design:
Conceptual Design and Development
Computer Aided Design & Engineering
CAD Drafting for Manufacturing
Composites Lamination
Product Analysis:
Composites Structural Analysis
Dimensioning
Thermal Analysis
Multi-Physics Simulation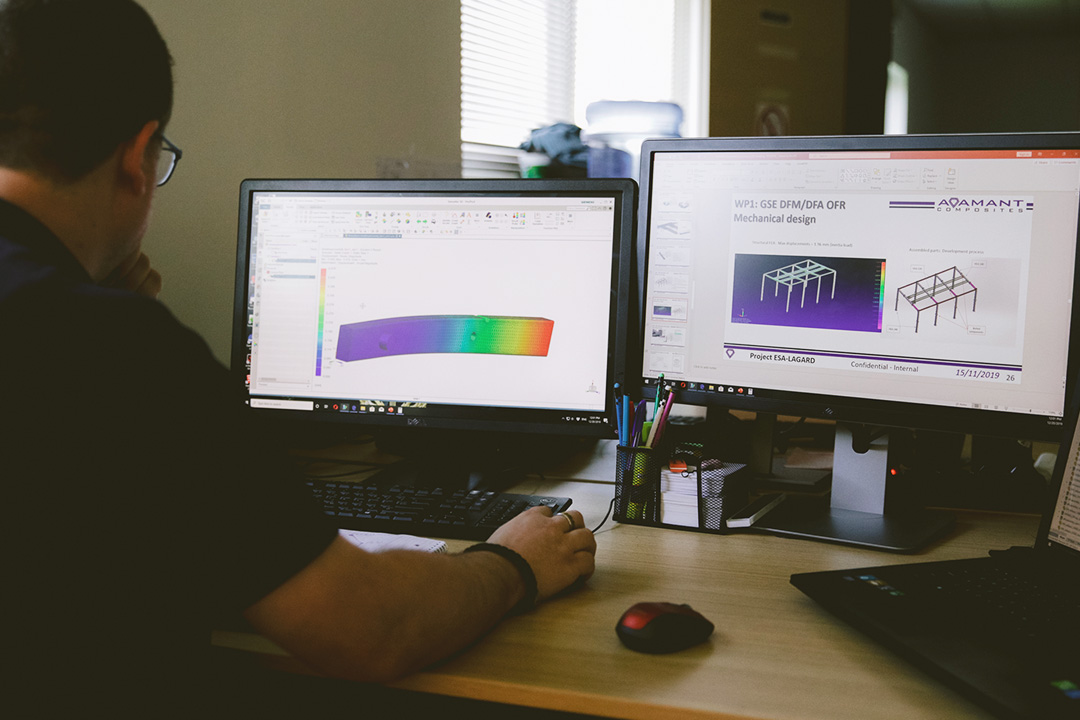 Piloting
Description
From LAB to FAB, Adamant Composites provides industrial perspective to material technologies, offering pilot production services to other SMEs and R&D Organizations.
Adamant Composites has developed three flexible pilot lines with pre-industrial production rates that enable fast screenings and a multitude of material combinations to address a plethora of markets.
A highly modular Roll2Roll Pilot line , equipped with a powder scattering and lamination module for the processing of both thermoset and thermoplastic prepregs, dry fabrics and thermoplastic films. Soon additional modules such as spray and laser treatment will be available.
A Liquid Dispersion Pilot Line equipped with ultrasonic mixing and Three Roll Milling for the batch processing of sub-micron & nano materials, resins, epoxies, pastes, silicons, polymers, inks, paints and many more.
A Film coating Pilot line, where both doctor blade and spray coating process are available for the batch production of coated surfaces and films eg. membrane electrode assemblies for PEM cells, electrodes for batteries and super-capacitors, adhesive films and gas barrier thermoplastic films.
We work with our partners to increase the TRL of their material technologies providing flexible and modular manufacturing pilot lines. Pilot production enables RTO and SME to take their novel material products and technologies, scale-them up, and validate them with customers for commercial production.
We are a trusted partner in Research and Innovation Activities, working on technology development, process stabilization, pilot production and small series production.